Your shopping cart is empty!
Electrified Hinges
Product Code:
Availability: In Stock
The Electrified Hinge makes door wiring easy, safe and reliable
Power can now be transferred from the frame into the door either concealed or exposed
We are now able to monitor the position of the door, transfer power and incorporate both functions into a single hinge
We now have the ability to electrify other hardware items such as Exit Devices, Electric Strikes, and Electrified Locks
Full Mortise Hinges are highly recommended for modification purposes
Monitoring can be supplied on a half surface hinge if the need arises
It is recommended that the center hinge location be used with all electrically modified hinges
The maximum voltage allowed in electrified hinges is 48 volts. The current (amperes) should also be taken into consideration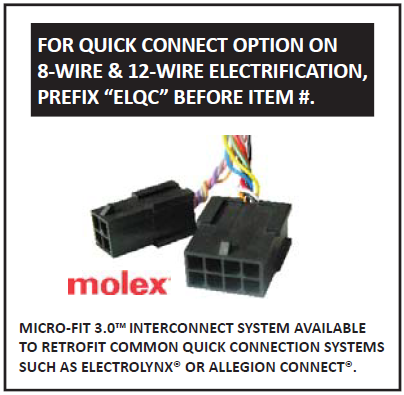 4, 6 and 8-wire available on all standard weight, heavy weight and concealed ball bearing hinges in all sizes. Specify Hinge.
ENERGY TRANSFER HINGES FOR CYLINDRICAL LOCKS, MORTISE LOCKS AND PANIC TRIMS
Prefix ELE + (No. of wires) before ITEM #
ELE4: 4 Wires - 26 gauge - 1A @ 24V (per pair) - ELQC4: (For QC Option)
ELE6: 6 Wires - 28 gauge - 1A @ 24V (per pair)
ELE8: 8 Wires - 28 gauge - 1A @ 24V (per pair) - ELQC8: (For QC Option)
ELE12: 12 Wires - 28 gauge - 1A @ 24V (per pair) - ELQC12: (For QC Option)
ENERGY TRANSFER HINGES FOR ELECTRIFIED PANIC BAR (ELR)
Prefix ELELR + (No. of wires) before ITEM #
ELELR4: 2 Wire -18 gauge, 5A (16A in-rush for 300 ms.) + 2 Wire -26 gauge
ELELR6: 2 Wire -18 gauge, 5A (16A in-rush for 300 ms.) + 4 Wire -28 gauge
ELELR8: 2 Wire -18 gauge, 5A (16A in-rush for 300 ms.) + 6 Wire -28 gauge
ELELR12: 2 Wire -18 gauge, 5A (16A in-rush for 300 ms.) + 10 Wire -28 gauge
Energy Transfer Hinges for Cylindrical Locks, Mortise Locks and Panic Trims
Energy Transfer Hinges for Electrified Panic Bar (ELR)