Your shopping cart is empty!
Pioneer SL/CSL Series
Product Code:
Availability: In Stock

APPLICATIONS For offices, schools, hospitals, apartments, hotel / motel, residential, commercial and public buildings.
DOOR RANGES 1 ⅜" to 1 ¾" thickness doors.
BACKSET 2 ¾" Standard, 2 ⅜", 3 ¾" and 5" optional.
LATCH BOLT ½" Throw solid brass, reversible for RH or LH applications. UL Listed.
LATCH FACEPLATE 2 ¼" x 1 ⅛", adjustable for flat or beveled doors ⅛" in 2", for 2 ¾" backset. Optional 2 ¼" x 1" for 2 ⅜" backset.
ANSI STANDARDS Meets or exceeds requirements of BHMA / ANSI A156.2 Series 4000, Grade 2 (FF-H 106C), 400,000 cycles.
EXPOSED TRIM Wrought brass, bronze or stainless steel, levers are Zinc casting, plated to match trim finish.
KEYING 6-pin "C" keyway cylinder, 2 keys per lock. Keying as per individual job requirement.
CYLINDER & KEYWAYS 6 pin solid brass "C" keyway standard. Schlage E, Schlage C-K, Russwin D1-2-3-4, Corbin 59 / 60, Corbin-Russwin L4, Sargent LA-LB-LC, Falcon / Weiser E, Arrow A, Yale 8, Yale GA and Kwikset. Can also accept Medeco, Assa, Kaba and Cal-Royal (HSK) High Security Cylinders.
CLUTCH Clutch available on all keyed locks and privacy functions. Prefix"C" before part number.
INTERCHANGEABLE CORE Interchangeable Core locks will accept compatible 6 or 7 pin cores with BEST, FALCON and ARROW. Prefix "IC" before part number. Available combinated or uncombinated. Temporary construction cores available. Factory keying with control key and master key available.
STRIKES ASA strike standard, "T" and full lip strike available on request.
TACTILE & LEAD LINING available upon request.
INSTALLATION INSTRUCTIONS
PROFILE
SL DESIGN

AG DESIGN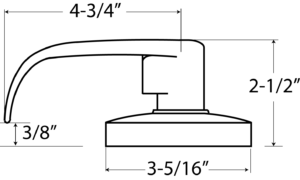 RL DESIGN
For pricing & availability inquiries contact your Local Distributor or click here for the list of our Sales Representatives
For Offices, Schools, Hospitals, Apartments, Hotel / Motel, Residential, Commercial and Public Buildings.
BHMA Certified Lifetime Warranty,

GRADE 2

Conforms with ANSI A 156.2 Series 4000, Heavy Duty, Barrier Free
UL listed 3-hour rating, conforms to standards UL10C and UBC7-2-1997
Solid brass 6 pin "C" keyway cylinder, optional other keyways
Optional Interchangeable Core
Optional Clutch System (CSL Series), free turning handle to deter breaking of the handle
Optional thru bolt installation
Individual spring on each side to prevent lever sag, maintain reliability and reduce maintenance
Optional Tactile and Lead Lining
Hurricane Approved Hardware. Florida Building Code FL13922
Meets the Buy American Act