Your shopping cart is empty!
GLS9800 & FGLS9800 Series
Product Code:
Availability: In Stock

For Doors: Wood, Metal, or Aluminum Glass doors with 1 ¾" minimum stile width, 1 ¾" thickness for single or double door application.
Chassis: Non-Ferrous Alloy (Panic Grade)
Cover: Non-ferrous plated material
Mounting: Furnished with wood and machine screws. Thru bolts available upon request.
End Cap: Brass, Bronze, or Stainless Steel construction.
Alarm: Available for 36" bar only. Prefix NALRM before PART#
Hand: Non-handed
Latch Bolt: Stainless Steel 3/4" throw
Spring: Stainless Steel throughout.
ANSI Standard: A156.3, Grade 1.
Rail Assembly: Heavy gauge extruded aluminum body with Stainless Steel push pad.
Strikes: 246 packed standard. Optional 247 strike. (See strike page).
Dogging Feature: Available for 36" bar only. Allen-type key furnished standard.
Mullion: Available.
UL and ULC Listed: GLS9800 Series for Panic & Safety for all types of 4' x 8' single doors and 8' x 8' double doors. FGLS9800 Series for all types 4' x 8' single doors for up to 3-hour fire labeled installations. Conforms to UL10C and UBC7-2-1997 codes/
Finish: Architectural plated finishes.
Electronic Functions: (ELR) Electrical Latch Retraction and RX & LX Signal Switch available
Anti-Microbial Coating - Available on US32D only. Use part # ANTB-EXIT
Suggested Architect's Specifications
All exit devices shall be of touch bar design with smooth operation and be operative over ⅔ of the door's clear opening width
All exit devices must be listed under "Panic Hardware" in the Accident Equipment List of Underwriter' Laboratories, Inc. Where labeled doors are used as exits, they must be equipped with labeled Fire Exit Hardware and UL10C, UBC 7-2-1997 codes
All springs shall be of stainless steel throughout
All exit devices shall be of chassis mounted unit construction.
All exit devices shall be ANSI A156.3, Grade 1.
Dimensions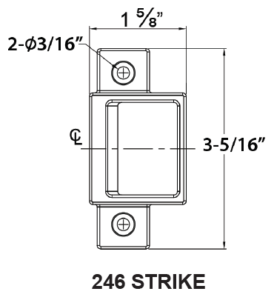 RIM TYPE NARROW STILE EXIT DEVICES. For use in institutions, schools, universities, commercial buildings where heavy duty reliable operation is a requirement.
GLS9800 & FGLS9800 SERIES

ANSI A156.3, GRADE 1 heavy duty exit device in surface vertical rod and rim designs.
Rail assemblies are heavy duty extruded aluminum body with stainless steel push pad and end caps are made of brass, bronze, or stainless steel. Rail travels in direction of the door swing.
Trims are thru bolted for additional security.
Conforms & Meets ADA Regulations. (ADA products only)
UL Listed for Panic and UL10C, UBC 7-2-1997 codes.
UL Listed for Fire Exit Hardware. 3 hours.
Uncompromising security and safety in single and double fire exit doors.
Chassis mounted unit construction. Non-Handed.