Your shopping cart is empty!
NM Series
Product Code:
Availability: In Stock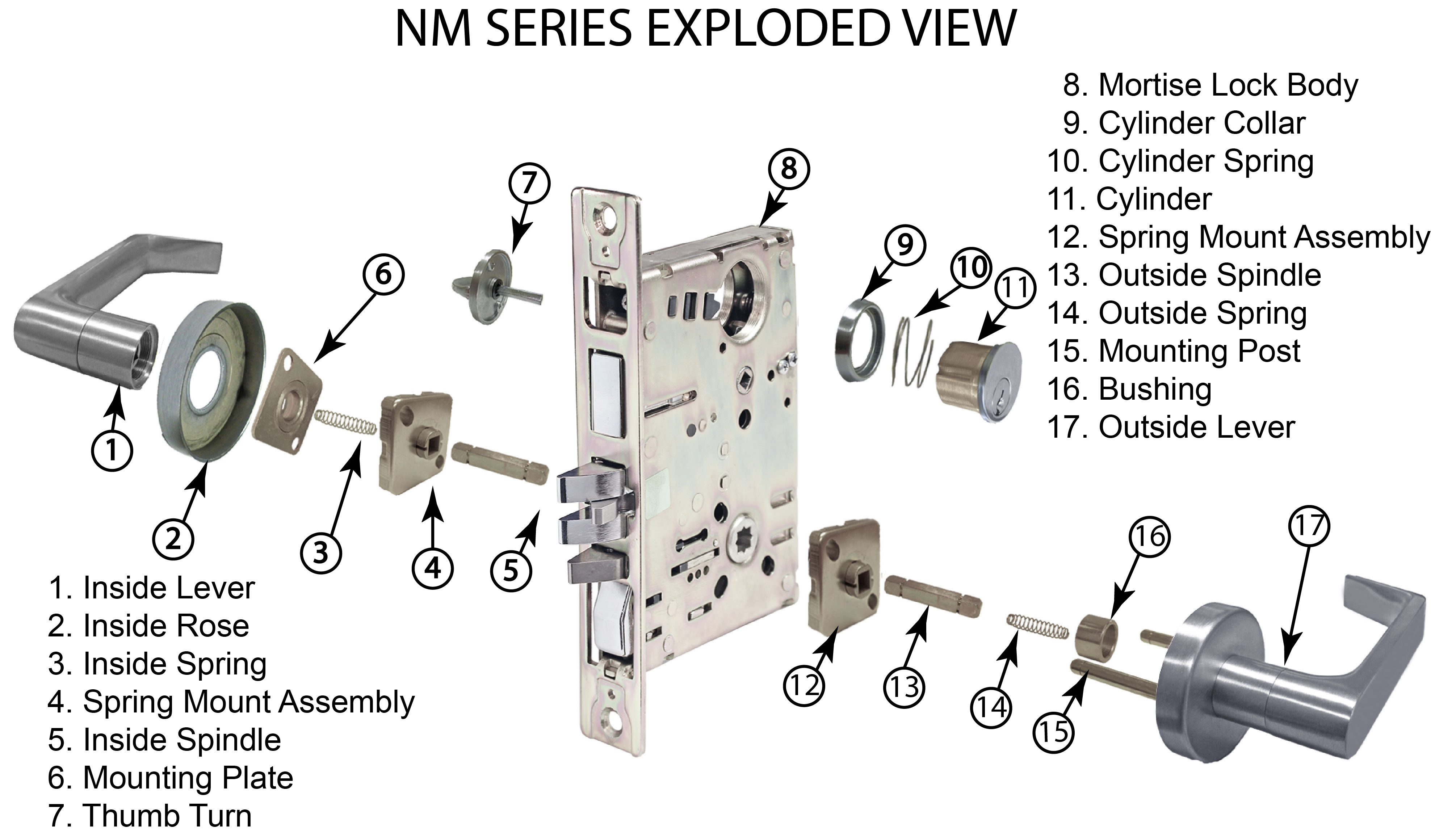 For Doors - 1-3/4" thick
Backset - 2-3/4"
Lockcase - Heavy gauge zinc chromate steel
Front - Heavy gauge steel 8" x 1-1/4" x 3/32". Accommodates flat doors & doors beveled 1/8" in 2".
Armored Front - Wrought brass attached by machine screws to lockcase front
Deadbolt - 1" throw, brass, chrome plated with hardened steel rollers
Latchbolt - Brass, chrome plated with heavy-duty deadbolt
Guardbolt - Extruded brass, chrome plated
Stopworks - Rocker type, brass, chrome plated
Strike - Brass, non-handed curved strike 4-7/8" x 1 1/4". Curved-up strike available upon request
Handing - Handed. Easily field-reversible
Trim - As specified
Cylinder - As specified
Keyway - As specified
Finishes - As specified
UL Listing - UL Listed "A" Label (3 hours), for use on fire doors, single or pair of doors. "F" mark stamped on strike
ANSI/BHMA - Meets ANSI/BHMA A156.13, Series 1000, Operational & Security Grade 1 Standards. Lock body conforms to Federal Specification Type 86; and all dimensional and operational performances, Exceeds 1,000,000 cycles.
100% internal parts quality inspection provides security, reliability and durability
Available with Best, Falcon and Arrow, Schlage, Corbin / Russwin, Sargent, and Yale Interchangeable core.
ICSC - Schlage LFIC
ICCR - Corbin / Russwin LFIC
ICSR - Sargent LFIC
ICYA - Yale LFIC
Electrified Locks available.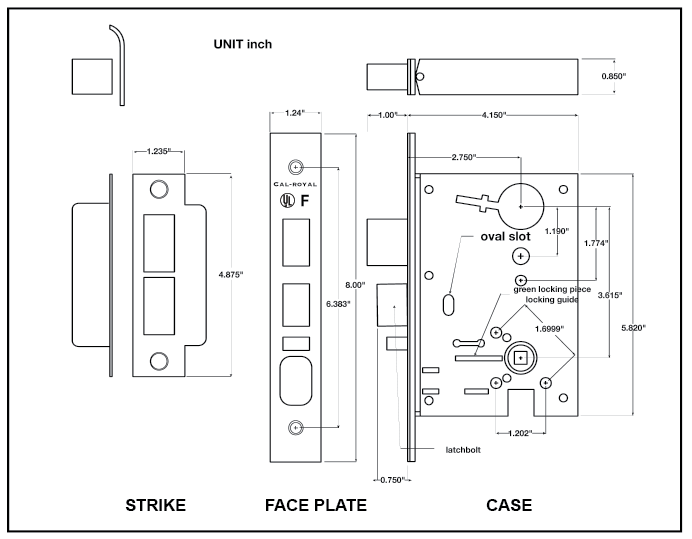 ADA Thumbturn
Optional Disability Turn (ADA) on applicable mortise locks. Prefix "ADA" before Mortise lock PART#.
QUICKMARK TEMPLATE
Available heavy duty steel template for fast and easy installation. Reduces installation time. Eliminates using paper templates.
FOR 2" up to 2 1/4" Thick door
Order kit
SSMKIT214 - for sectional trim
SEMKIT214 - for escutcheon trim
LEAD LINING
Available on request. Prefix "LEAD" before PART#.
ANTI MICROBIAL COATING
Available on request on US26D and US32D finishes. Longer factory lead time usually applies. Prefix "ANTB" before PART#.
HOW TO CHANGE HANDING
Use hex key to unfasten screw in the hole behind latch bolt (green label).
Pull latch bolt out until it is entirely away from the lock case.
Rotate latch bolt to adjust handing.
Fasten the screw tightly into the hole and glue with threadlocker (loctite 242).
Use blade screwdriver to flip locking piece (green label) forward twice to front side.
Handing is completely reversed.
WARNING!
Please read the instruction on the installation guide about the correct position of spring cage.
Privacy Indicators
Privacy with Key Outside and "OCCUPIED" Indicator
NM8495
Deadbolt thrown or retracted by key outside or inside thumbturn
Knob/lever retracts latch bolt from either side
Throwing deadbolt locks outside knob/lever and displays "OCCUPIED" plate
Rotating inside knob/lever simultaneously retracts both deadbolt and latch bolt and unlocks outside knob/lever
Inside lever is always free for immediate egress
Privacy with Deadbolt, Coin Turn Outside and "OCCUPIED" Indicator
NM8445
Deadbolt thrown or retracted by inside thumbturn or outside coin turn
Rotating outside coin turn retracts deadbolt and unlocks outside knob/lever
Latch bolt retracted by knob/lever from either side
Throwing deadbolt locks outside knob/lever and displays "OCCUPIED" plate
Rotating inside knob/lever simultaneously retracts deadbolt and latch bolt and unlocks outside knob/lever
Inside lever is always free for immediate egress
Electrified Mortise Locks
NM300 Series (Refer to Catalog Page on How to Order)
Available with or without deadbolt
FEATURES:
UL and CUL Listings
Continuous duty solenoids for cooler operation during "continuously on" applications
Low current draw
Numerous switch options
3 year "No Hassle" warranty
OPTIONS:
Voltage requirement -12 VDC or 24 VDC
Amperage - 300mA @ 12V or 130mA @ 24V
Function - available

Fail Safe, "Electrically Locked" (EL) or
Fail Secure, "Electrically Unlocked" (EU)
RX – Request to Exit Switch (Monitors the inside handle)
LBM - Latch Bolt Monitoring Switch (Monitors the position of latch bolt)
DPS - Door Door Position Switch (Sold Separately. Not installed on the lock)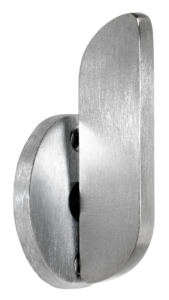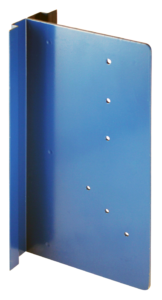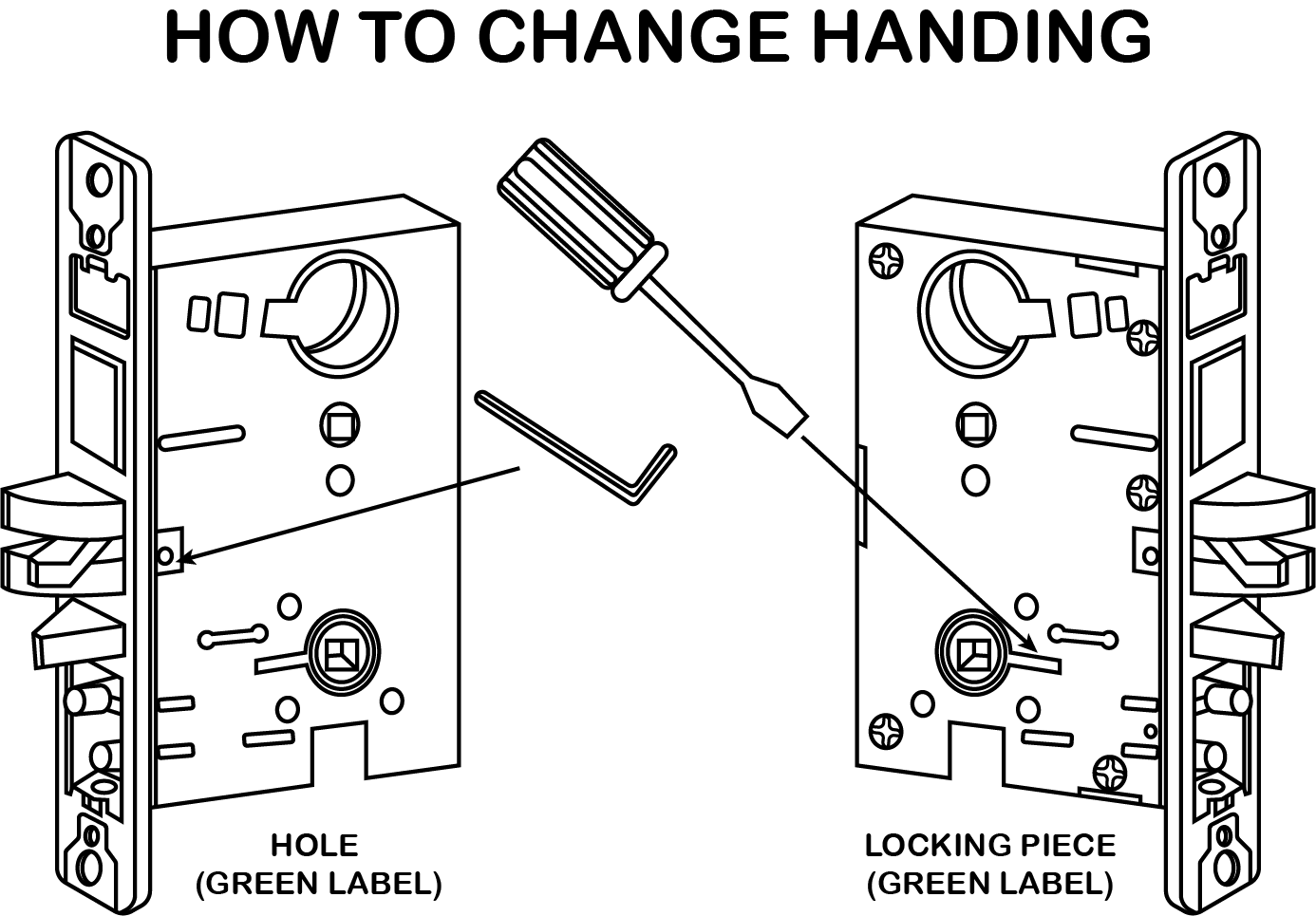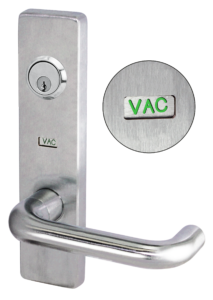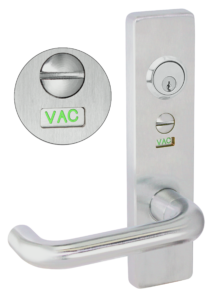 For pricing & availability inquiries contact your Local Distributor or click here for the list of our Sales Representatives
BHMA Certified Lifetime Warranty,

GRADE 1

Conforms to federal specification type 86; and to all dimensional and operational performances of ANSI A156.13-1 80, Series 1000, Extra Heavy Duty
UL listed 3-hour rating, conforms to standards UL10C and UBC 7-2-1997

Optional Interchangeable Core

Rust-proof heavy duty 2 ¾" backset lock case
Individual spring to prevent lever sag, easily reversible
Forged brass lever handles exceed requirements of ADA (American Disability Act)
Auxiliary latch bolt
Armored front plate conceals lock mounting screws
1" throw heavy duty deadbolt with anti-saw hardened pins
Heavy duty ¾" latch bolt with anti-friction latch, easily reversible
Optional Electrified Locks available
Conforms & Meets ADA Regulations