Your shopping cart is empty!
SC Series
Product Code:
Availability: In Stock

FOR DOORS - 1 ¾" (44.5mm) thick standard. For doors over 1 ¾" (44.5mm), specify door thickness
LOCK HAND - Lock bodies are easily fielded reversible, no need to specify hand when ordering
BACKSET & STRIKE - 2 ¾" (70mm) only backset. Brass or stainless steel strike; ANSI Standard A115.1; curve lip with dust box
LOCK CASE - Heavy Duty wrought steel, zinc dichromate plated
CENTER TO CENTER - Center of the lever to center of the cylinder is 3 7/8" (98mm)
ARMOR FACEPLATE - Brass or stainless steel; 8" x 1 7/32" (203mm x 31.3mm); ANSI Standard A115.1
DEADBOLT - 1" (25.4mm) throw; hardened stainless steel
LATCH BOLT - ¾" (19mm) throw; one-piece stainless steel with anti-friction reversible tongue
CYLINDER & KEYWAYS - 6-pin solid brass "C" keyway standard. Optional: Schlage E, Schlage C-K, Russwin D1-2-3-4, Corbin 59 / 60, Corbin-Russwin L4, Sargent LA-LB-LC, Falcon / Weiser E, Arrow A, Yale 8, Yale GA, and Kwikset. Can also accept Medeco, Assa, Kaba, and Cal-Royal HSK High-Security Cylinders.
INTERCHANGEABLE CORE (IC) - Interchangeable Core locks will accept compatible 6 or 7 pin cores with BEST, FALCON, and ARROW. Also available with SCHLAGE, CORBIN / RUSSWIN D-1 thru 4, SARGENT LA, and YALE GA Large Format Cylinders.
TOGGLE BUTTON - High rust-resistant chrome plated zinc alloy
MASTER KEYING - Can be master-keyed or grand master-keyed, construction keying available
AUXILIARY LATCH: Stainless Steel, non-handed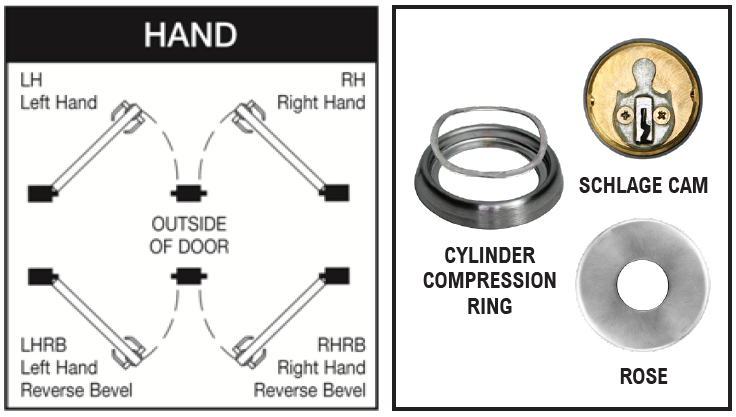 Available with Best, Falcon and Arrow, Schlage, Corbin / Russwin, Sargent, and Yale Interchangeable core.
ICSC - Schlage LFIC
ICCR - Corbin / Russwin LFIC
ICSR - Sargent LFIC
ICYA - Yale LFIC
CERTIFICATIONS
ANSI / BHMA Meets ANSI / BHMA A156.13 Series 1000, Operational & Security Grade 1 Standards
UL / cUL UL and UL Listed to Canadian safety standard for A label (3-hour fire door); stamped letter F and UL symbol on armor faceplate
POSITIVE PRESSURE Meets positive pressure requirements UL 10C and UBC 7-2 (1997)
ADA Meets ADA requirements, specifically designed for Barrier Free Application
DIMENSIONS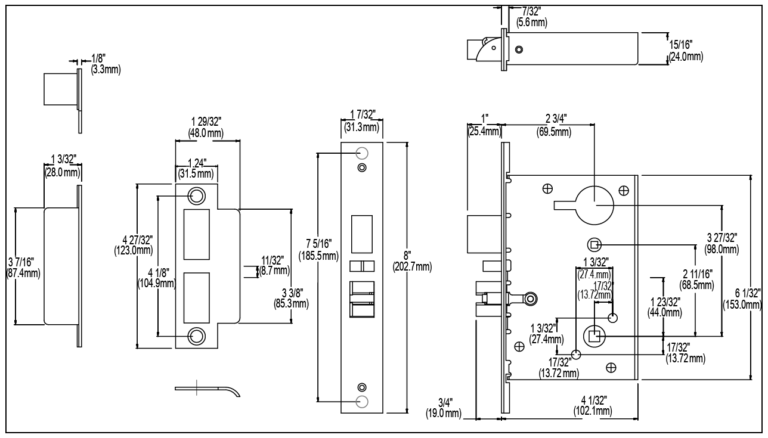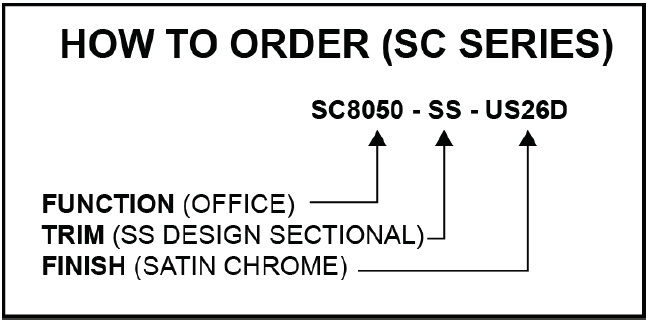 All products are shipped non-handed. Easily field reversible.
ADA Thumbturn
Optional Disability Turn (ADA) on applicable mortise locks. Prefix "ADA" before Mortise lock PART#.
Order kit: SCSADA - ADA Thumbturn for Sectional SCEADA - ADA Thumbturn for Escutcheon
FOR 2" up to 2 1/4" thick door
Order kit: SCSKIT200 – for sectional trim SCEKIT214 – for escutcheon trim
LEAD LINING
Available on request
Prefix LEAD before Mortise Lock PART#.
ANTIMICROBIAL COATING
Available on request on US26D and US32D finishes.
Longer factory lead time usually applies.
Prefix "ANTB" before PART#.
HOW TO CHANGE HANDING
If the handing of the latch bolt does not match the door handing, remove the locking screw and pull the latch bolt out from the lock case, then turn 180°, making the bevel of the latch bolt face the opposite hand. Replace the latch bolt and fasten the locking screw.
Indicator Mortise Locks
Privacy with Key Outside and "OCCUPIED" Indicator
SC8495
Deadbolt threw or retracted by key outside or inside thumb turn
Knob/lever retracts latch bolt from either side
Throwing deadbolt locks outside knob/lever and displays "OCCUPIED" plate
Rotating inside knob/lever simultaneously retracts both deadbolt and latch bolt and unlocks outside knob/lever
Inside lever is always free for immediate egress
Faculty Restroom with Key Outside and "OCCUPIED" Indicator
SC8486
Latch bolt retracted by key outside or by knob/lever inside. Outside knob/lever always fixed
Deadbolt threw or retracted by inside thumb turn
When deadbolt is thrown, the "OCCUPIED" plate is displayed and all keys become inoperative except emergency keys
Turning inside knob/lever simultaneously retracts both deadbolt and latch bolt
Auxiliary latch deadlocks latch bolt when the door is locked
Inside lever is always free for immediate egress

Privacy with Deadbolt, Coin Turn Outside, and "OCCUPIED" Indicator
SC8445
Deadbolt threw or retracted by inside thumb turn or outside coin turn
Rotating outside coin turn retracts deadbolt and unlocks outside knob/lever
Latch bolt retracted by knob/lever from either side
Throwing deadbolt locks outside knob/lever and displays "OCCUPIED" plate
Rotating inside knob/lever simultaneously retracts deadbolt and latch bolt and unlocks outside knob/lever
Inside lever is always free for immediate egressElectrified Mortise Locks
SC400 Series
Electrified Mortise Locks
Available with or without deadbolt
ElectrifiedPart #ELEC (Specify Options) FEATURES:
UL and CSFM Listings
Continuous duty solenoids for cooler operation during "continuously ON" applications
Allows for an AC or DC power source through an appropriate power supply. No polarity.
Low current draw
Numerous switch options
3 year "No Hassle" warranty
OPTIONS:
Voltage requirement -12V AC / DC or 24VAC/DC
Amperage – 600mA+ 10% @ 12V or 350mA +10% @ 24V
Solenoid coil resistance - 12V = 20 Ω + 5% or 24V = 80 Ω+ 5%
Power consumption - 7.2 watts + 10%
Function – available Fail-Safe, "Electrically Locked"(EL) or Fail Secure, "Electrically Unlocked" (EU)
RX - Request to Exit Switch (Monitor the inside handle)
Refer on the catalog page for more Info & Features:
For pricing & availability inquiries contact your Local Distributor or click here for the list of our Sales Representatives
Extra Heavy Duty Mortise Locks with CLUTCH Free-wheeling
Can retrofit Schlage L9000 Series mortise lock without drilling any additional holes on the door for sectional and escutcheon trims

Fully reversible design
No exposed mounting screws on the outside and inside trims
The outside lever has a Clutch (Free-Wheeling design). The lever rotates when the lever is locked preventing excessive force from being applied to the horizontal lever. The design decreases the chance of the lever being broken or damaged
Lock body conforms to all dimensional and operational performances of ANSI A156.13,

Grade 1

, exceeds 1,000,000 cycles